[ad_1]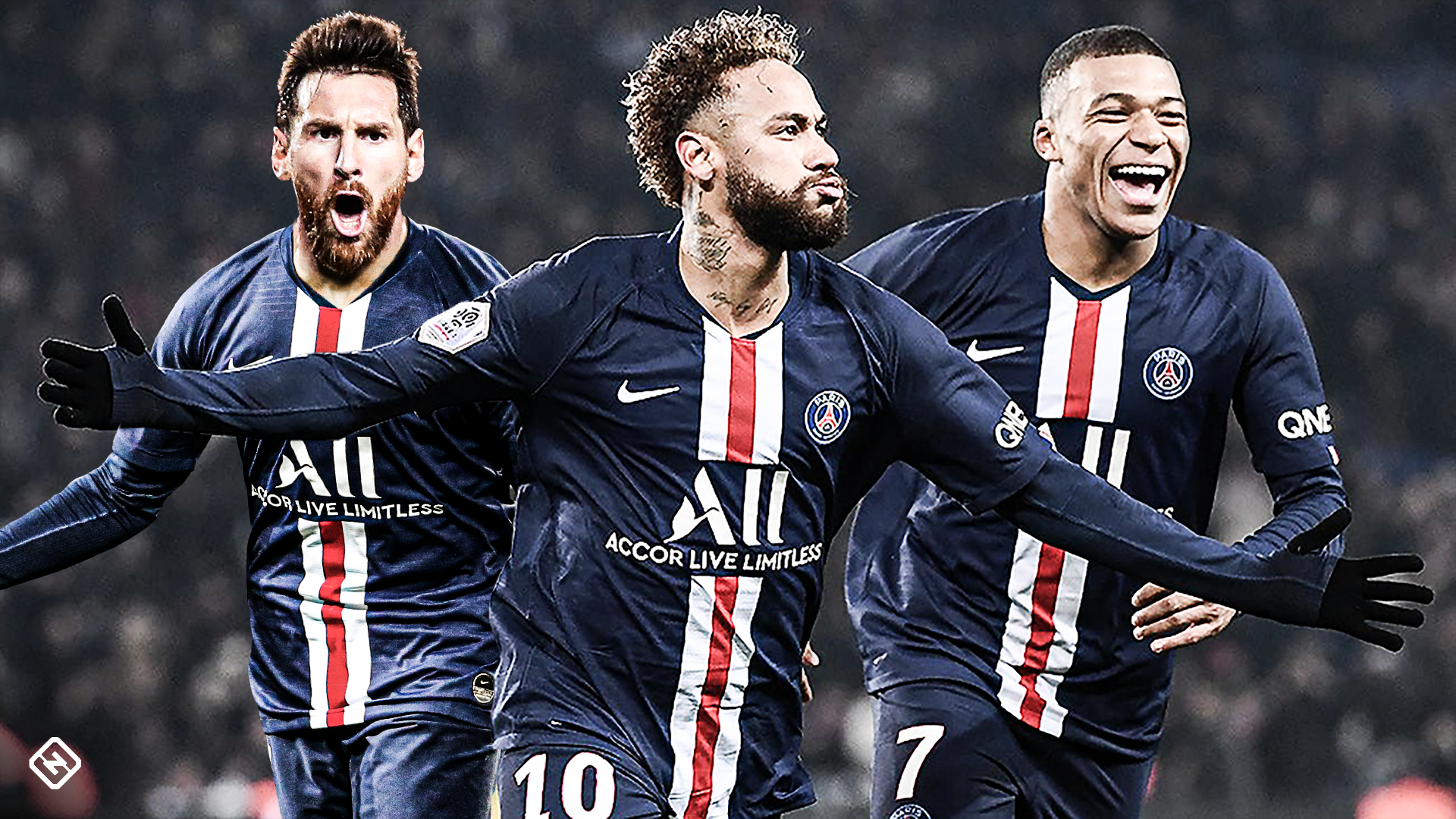 With Neymar unavailable, the responsibility will fall on the shoulders of Lionel Messi and Kylian Mbappe to lead Paris Saint-Germain in its third UEFA Champions League group stage match at home to RB Leipzig on Tuesday. PSG is atop the group on goal difference, ahead of Club Brugge. 
Messi was included in the 22-man squad that will host Leipzig. The German side has had an inconsistent start to its season under new American manager Jesse Marsch, but it showed it can be dangerous on the road, scoring three times at Manchester City. Leipzig will arrive at the Parc des Princes desperate to win all three points as it sits at the bottom of Group A without a single point.
The match kicks off a big week for PSG with a massive Ligue 1 rivalry matchup set for Sunday at Olympique Marseille. PSG is at the top of the Ligue 1 table with 27 points, while Marseille is in third place (17 points) with a game in hand. A home win against PSG will be critical if Marseille is to make a title run.
MORE: How much money will Messi make with PSG?
Messi has appeared in a total of five of PSG's 11 competitive matches since signing on Aug. 10, including going the full 90 minutes in both Champions League games. His lone goal came in the 2-0 Group A victory over Manchester City (video below).
Below is PSG's complete schedule with TV and streaming information in the USA.
How to watch Messi, PSG in USA 
Depending on the competition, there are different TV and streaming outlets that carry PSG's matches in the USA during the 2021-2022 season:
Ligue 1 & Coupe de France (French Cup)
TV Channels: beIN Sports, beIN Sports en Espanol, beIN Sportrs Xtra (available on fuboTV, cable, satellite, Sling, Fanatiz)
Streaming: beIN Sports Xtra (on fuboTV, Roku, Sling, Fanatiz and Pluto TV) & beIN Sports Connect app (for authenticated subscribers)
beIN Sports, beIN Sports en Espanol and beIN Sports Xtra are streaming on fuboTV (free 7-day trial). 
Canada: beIN Sports networks are also available in Canada.
UEFA Champions League
TV Channels: CBS (final), CBS Sports Network (CBSSN)
Spanish-language TV: Univision, TUDN, UniMas, Galavision (all available on fuboTV)
Streaming: Paramount+ (English), PrendeTV (Spanish)
The Univision family of networks and CBSSN, which will carry select matches throughout the UEFA Champions League, are available to be streamed on fuboTV (free 7-day trial).
Canada: The UEFA Champions League streams exclusively on DAZN in Canada.
PSG match schedule 2021-2022
Note: Home team listed first
| | | | | | |
| --- | --- | --- | --- | --- | --- |
| Date | Competition | Match | Time (ET) | TV channels | Stream |
| Sun, Aug. 1 | Trophee des Champions | Lille 1, PSG 0 | Highlights |   |   |
| Sat, Aug. 7 | Ligue 1, Matchday 1 | Troyes 1, PSG 2 | Highlights |   |   |
| Sat, Aug. 14 | Ligue 1, Matchday 2 | PSG 4, Strasbourg 2 | Highlights |   |   |
| Fri, Aug. 20 | Ligue 1, Matchday 3 | Brest 2, PSG 4 | Highlights |   |   |
| Sun, Aug. 29 | Ligue 1, Matchday 4 | Reims 0, PSG 2  | Highlights |   |   |
| Sat, Sept. 11 | Ligue 1, Matchday 5 | PSG 4, Clermont Foot 0 | Highlights |   |   |
| Wed, Sept. 15 | Champ. League, MD 1 | Club Brugge 1, PSG 1 | Highlights |   |   |
| Sun, Sept. 19 | Ligue 1, Matchday 6 | PSG 2, Lyon 1 | Highlights |   |   |
| Wed, Sept. 22 | Ligue 1, Matchday 7 | FC Metz 1, PSG 2 | Highlights |   |   |
| Sat, Sept. 25 | Ligue 1, Matchday 8 | PSG 2, Montpellier 0 | Highlights |   |   |
| Tues, Sept. 28 | Champ. League, MD 2 | PSG 2, Man City 0 | Highlights |   |   |
| Sun, Oct. 3 | Ligue 1, Matchday 9 | Rennes 2, PSG 0 | Highlights |   |   |
| Sun, Oct. 17 | Ligue 1, Matchday 10 | PSG 2, Angers 1 | Highlights |   |   |
| Tues, Oct. 19 | Champ. League, Matchday 3 | PSG vs. RB Leipzig | 3 p.m. |   | Paramount+, PrendeTV |
| Sun, Oct. 24 | Ligue 1, Matchday 11 | Marseille vs. PSG | 2:45 p.m. | beIN Sports | fuboTV, beIN Connect |
| Fri, Oct. 29 | Ligue 1, Matchday 12 | PSG vs. Lille | 3 p.m. | beIN Sports | fuboTV, beIN Connect |
| Wed, Nov. 3 | Champ. League, Matchday 4 | RB Leipzig vs. PSG | 4 p.m. | Univision TBD | fuboTV, Paramount+ |
| Sat, Nov. 6 | Ligue 1, Matchday 13 | Bordeaux vs. PSG | 4 p.m. | beIN Sports | fuboTV, beIN Connect |
| Sun, Nov. 21 | Ligue 1, Matchday 14 | PSG vs. Nantes | TBD | beIN Sports | fuboTV, beIN Connect |
| Wed, Nov. 24 | Champ. League, Matchday 5 | Manchester City vs. PSG | 3 p.m. | Univision TBD | fuboTV, Paramount+ |
| Sun, Nov. 28 | Ligue 1, Matchday 15 | Saint-Etienne vs. PSG | TBD | beIN Sports | fuboTV, beIN Connect |
| Wed, Dec. 1 | Ligue 1, Matchday 16 | PSG vs. Nice | TBD | beIN Sports | fuboTV, beIN Connect |
| Sun, Dec. 5 | Ligue 1, Matchday 17 | Lens vs. PSG | TBD | beIN Sports | fuboTV, beIN Connect |
| Tues, Dec. 7 | Champ. League, Matchday 6 | PSG vs. Club Brugge | 12:45 p.m. | Univision TBD | fuboTV, Paramount+ |
| Sun, Dec. 12 | Ligue 1, Matchday 18 | PSG vs. Monaco | TBD | beIN Sports | fuboTV, beIN Connect |
| Sat, Dec. 18 | French Cup, Rd. of 64 | TBD | TBD | beIN Sports | fuboTV, beIN Connect |
| Wed, Dec. 22 | Ligue 1, Matchday 19 | Lorient vs. PSG | TBD | beIN Sports | fuboTV, beIN Connect |
| Sun/Mon, Jan. 2/3 | French Cup, Rd. of 32 | TBD | TBD | beIN Sports | fuboTV, beIN Connect |
| Sun, Jan. 9 | Ligue 1, Matchday 20 | Lyon vs. PSG | TBD | beIN Sports | fuboTV, beIN Connect |
| Sun, Jan. 16 | Ligue 1, Matchday 21 | PSG vs. Brest | TBD | beIN Sports | fuboTV, beIN Connect |
| Sun, Jan. 23 | Ligue 1, Matchday 22 | PSG vs. Stade de Reims | TBD | beIN Sports | fuboTV, beIN Connect |
| Sat, Jan. 29 | French Cup, Rd. of 16 | TBD | TBD | beIN Sports | fuboTV, beIN Connect |
| Sun, Feb. 6 | Ligue 1, Matchday 23 | Lille vs. PSG | TBD | beIN Sports | fuboTV, beIN Connect |
| Wed, Feb 9 | French Cup, Quarterfinal | TBD | TBD | beIN Sports | fuboTV, beIN Connect |
| Sun, Feb. 13 | Ligue 1, Matchday 24 | PSG vs. Stade Rennais | TBD | beIN Sports | fuboTV, beIN Connect |
| Tues/Wed, Feb. 15/16 | Champ. League, Rd16 – Leg 1 | Feb. 15/16 or Feb. 22/23 | TBD | Univision TBD | Paramount+, PrendeTV |
| Sun, Feb. 20 | Ligue 1, Matchday 25 | Nantes vs. PSG | TBD | beIN Sports | fuboTV, beIN Connect |
| Tues/Wed, Feb. 22/23 | Champ. League, Rd16 – Leg 1 | Feb. 15/16 or Feb. 22/23 | TBD | Univision TBD | Paramount+, PrendeTV |
| Sun, Feb. 27 | Ligue 1, Matchday 26 | PSG vs. Saint-Etienne | TBD | beIN Sports | fuboTV, beIN Connect |
| Wed, March 2 | French Cup, Semifinal | TBD | TBD | beIN Sports | fuboTV, beIN Connect |
| Sun, March 6 | Ligue 1, Matchday 27 | Nice vs. PSG | TBD | beIN Sports | fuboTV, beIN Connect |
| Tues/Wed, March 8/9 | Champ. League, Rd16 – Leg 2 | March 8/9 or March 15/16 | TBD | Univision TBD | Paramount+, PrendeTV |
| Sun, March 13 | Ligue 1, Matchday 28 | PSG vs. Bordeaux | TBD | beIN Sports | fuboTV, beIN Connect |
| Tues/Wed, March 15/16 | Champ. League, Rd16 – Leg 2 | March 8/9 or March 15/16 | TBD | Univision TBD | Paramount+, PrendeTV |
| Sun, March 20 | Ligue 1, Matchday 29 | Monaco vs. PSG | TBD | beIN Sports | fuboTV, beIN Connect |
| Sun, April 3 | Ligue 1, Matchday 30 | PSG vs. Lorient | TBD | beIN Sports | fuboTV, beIN Connect |
| Tues/Wed, April 5/6 | Champ. League, QF – Leg 1 | TBD | TBD | Univision TBD | Paramount+, PrendeTV |
| Sun, April 10 | Ligue 1, Matchday 31 | Clermont Foot vs. PSG | TBD | beIN Sports | fuboTV, beIN Connect |
| Tues/Wed, April 12/13 | Champ. League, QF – Leg 2 | TBD | TBD | Univision TBD | Paramount+, PrendeTV |
| Sun, April 17 | Ligue 1, Matchday 32 | PSG vs. Marseille | TBD | beIN Sports | fuboTV, beIN Connect |
| Wed, April 20 | Ligue 1, Matchday 33 | Angers vs. PSG | TBD | beIN Sports | fuboTV, beIN Connect |
| Sun, April 24 | Ligue 1, Matchday 34 | PSG vs. Lens | TBD | beIN Sports | fuboTV, beIN Connect |
| Tues/Wed, April 26/27 | Champ. League, Semi – Leg 1 | TBD | TBD | Univision TBD | Paramount+, PrendeTV |
| Sun, May 1 | Ligue 1, Matchday 35 | Strasbourg vs. PSG | TBD | beIN Sports | fuboTV, beIN Connect |
| Tues/Wed, May 3/4 | Champ. League, Semi – Leg 2 | TBD | TBD | Univision TBD | Paramount+, PrendeTV |
| Sun, May 8 | French Cup, Final | TBD | TBD | beIN Sports | fuboTV, beIN Connect |
| Sun, May 8 | Ligue 1, Matchday 36 | PSG vs. Troyes | TBD | beIN Sports | fuboTV, beIN Connect |
| Sat, May 14 | Ligue 1, Matchday 37 | Montpellier vs. PSG | TBD | beIN Sports | fuboTV, beIN Connect |
| Sat, May 21 | Ligue 1, Matchday 38 | PSG vs. Metz | TBD | beIN Sports | fuboTV, beIN Connect |
| Sat, May 28 | Champions League, Final | TBD | TBD | Univision TBD | Paramount+, PrendeTV |


[ad_2]

Source link